The accrual report gives you an overview of how many patients have been registered/randomized to a trial.
You can generate an overall report for all trials that you have the rights to see in SINATRAS or you can specify trial and the time span that the report should cover. In the example below an accrual report is being generated for all trials in the time span from 1.1.2009 to 31.12.2009.
You can group the report by trial or by institution. If you want to have the accrual totals grouped by trial, choose the report by trial, if you prefer to have the totals grouped by Institution, choose the report by institution.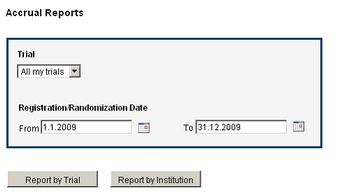 Report by Trial
Generate a report grouped by trial.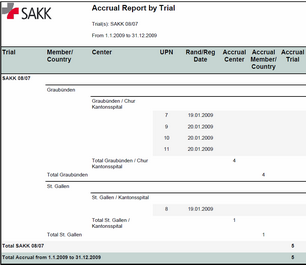 Report by Institution
Generate a report grouped by institution.